Join a movement to End Diabetes
This September challenge yourself or rally a team to #LaceUpYourWay and raise funds that help bring us one step closer to a cure. You choose the activity and you set the pace. Every distance and dollar make a difference in the lives of people living with diabetes or prediabetes.
2023 Lace Up is Live. Click here to join us!
Step 1:
Join the movement
Lace Up to End Diabetes anyway you like! Choose how to move, tie your laces, and set your pace on your own or with a team. Click Join when you're ready to get started.
Step 2:
Share your story
Make some noise and share your #LaceUpYourWay challenge with family, friends and colleagues. Raise awareness and funds to support Diabetes Canada.
Step 3:
Track your activity
Download the Lace Up app to share your fundraising page and set movement goals with just a couple taps. Join activity challenges and earn badges as you go!
Lace Up Your Way
We invite you to #LaceUpYourWay! You choose the activity and you set the pace. Whatever you decide to do, every Lacer helps fund education, support services, advocacy and diabetes research that could lead to the next big medical breakthrough.
Whether you're a hobby jogger or love the thrill of going fast, running is one of the quickest ways to clock your kilometres.
Hop on your bike, scooter, or skateboard to go the distance. Indoor bikes count, too! This is the easiest way to complete the 100k Challenge!
Walking is an easy way to exercise, and a great way to get the whole family involved: parents, kids, and even your pets!
Join us by stretching, toning, or dancing in your living room! Every two hours of a workout is about 10 kilometres of distance travelled.
We have reached the finish line!
Together, we have raised over $355,000 and moved over 100,000 km (and counting). Thank you to everyone who was a part of the 3rd Annual Lace Up to End Diabetes. Throughout September, you Laced Up, challenged yourself, came together, and made a difference for the 1 in 3 people affected by diabetes across Canada. We couldn't have done it without our wonderful Lacers, partners, team captains, and supporters.
Thank you all for Lacing Up to help bring us one step closer to a cure. See you next year!
Download the Lace Up app
New in 2022! The Lace Up app is the easiest way to update your fundraising page and share the fun with friends, family and colleagues.
Get it now on Google Play or the App Store.
Why Lace Up on the app?
Use it on your phone, tablet or with your smart watch
Share your progress with a couple taps by email, text or on social media
People who fundraise with the app raise an average of 3.5x more that's 3.5x more impact for people affected by diabetes or prediabetes
Earn achievement badges exclusive to the app
Join new activity challenges you go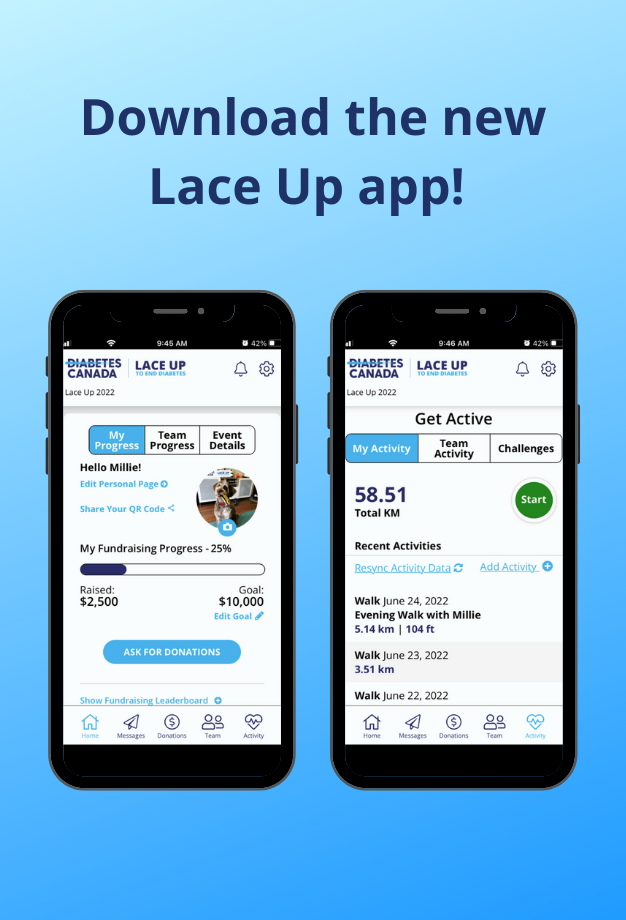 Lace Up Top Fundraisers
Here is the leaderboard of top Lace Up fundraisers and fundraising teams across Canada: