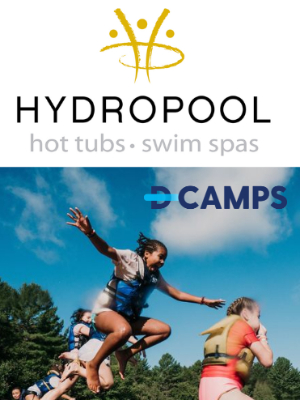 Join Hydropool Hot Tubs and Swim Spas for May Camp Month and help them send 20 kids with type 1 diabetes to Diabetes Canada's D-Camps!
Hydropool Hot Tubs and Swim Spas and their retailers are rallying together to double your impact by matching all donations up to $20,000.

May 2-4 marks the start of camping in Canada, after many months of snow and cold, kids everywhere start to dream of the smell of campfires, the feel of sand beneath their toes, or the sound of loons in the early morning fog.
Donate NOW and help Hydropools give families across Canada the opportunity to send their children to D-Camps and make their dreams a reality!
D-Camps is one of the only places where everyone understands life with type 1 diabetes (T1D). Kids (ages 7-15) not only have fun and make lasting friendships, but they also gain self-confidence, independence and the skills to effectively manage their diabetes.
Managing T1D is a constant balancing act of multiple daily injections, insulin pump management, blood sugar testing, and counting carbohydrates. T1D is an unrelenting disease and once diagnosed a child and their families never get a day off.
On average, the cost for a child to attend D-Camps is $2,400 per week. With your support today you can help us ensure that cost is never a barrier for kids to attend camp!
Double your impact TODAY!
Are you ready? #LetsEndDiabetes now!
#HydropoolDCampsMonth
View More