'That's right, you heard me--I'm going for a [42.2km] run!' (Dani's Munich Marathon)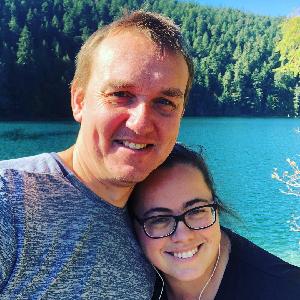 Anyone who knows me knows I don't like to run. Like at all. I've spent most of my life avoiding running unless there was a soccer ball involved, and even then, the running was the annoying part that got in the way of making plays and scoring goals. But I have to say that I hate being diabetic more, so here we are.
I was diagnosed at age 5 on St. Patrick's Day 1993 (fun fact, St. Paddy's is my most vehemently hated holiday)! and by the time I was 10, a back of the envelope calculation would suggest I'd given myself nearly 11,000 needles of one sort of another to stay alive. The number per day is decreasing thanks to insulin pumps and bloodless glucose monitors, but I'm probably at nearly 30,000 pokes, and instead of daily injections and finger pokes, I have two different devices attached to my body at all times.
I'm lucky in that my body has held up to this physical challenge so far (and fingers crossed, will continue to do so!) but picture being 5 and being told that you needed to control this mysterious thing in your body (by not eating sugar, counting your exchanges/carbs, giving yourself shots, recognizing being high or low, making peace offerings to mystical sea spirits, etc., etc., etc.,) and that if you didn't, you could lose a leg, or a kidney, or your life.
It's a lot to put on any kid--continues to be a lot to put on an adult--and has left me with a serious phobia of anyone in the medical profession (which gets very inconvenient as my friends are growing up to become doctors and dentists!) and a pretty large amount of anxiety related to talking about being diabetic. Sooo...don't expect to hear too much about that when I update. I imagine there will be a lot more complaining about the hill runs and intervals, and the chafing and the new shoes, and the blisters as Toryn and I take on the longest measured run we've ever done, by some magnitude.
We've committed to running the Munich Marathon in October 2019, and as part of our training, will be covering many hundreds of kilometres between now and then. Just as big a challenge will be meeting a commitment to raise $6,500 in support of Diabetes Canada, who have a little blurb, below.
We'll be updating you as our training continues--we have a short 5k race in about three weeks I'll try and remember to post about--and in the meantime, please consider donating to both move us closer to a cure and give me something positive to think about while I do all that running since--see point A--it's not the first thing I'd love to be doing!
Thank you so much for your support, whether a financial contribution or a high five along the trail!
Cheers,
Dani
--
Team Diabetes is the national physical activity fundraising program for Diabetes Canada. Team members promote a healthy lifestyle while raising vital funds in support of the more than 11 million Canadians living with diabetes or prediabetes. The funds raised help Diabetes Canada deliver on its mission to lead the fight against diabetes by helping people with diabetes live healthy lives while we work to find a cure. We invite you to learn more about Team Diabetes and the important work of Diabetes Canada at www.teamdiabetes.ca.
View More
My Personal Web Log
Topics
MEC Race 5 5K + update
First of all, thank you so much to everyone who has already donated, shared words of support, and cheered us on! It really means a lot!
Toryn and I have been running or training at least 3 times a week for the past 6 weeks or so and yesterday completed a 5km fun run hosted by MEC at Beaver Lake. We were slllooooow, but we finished, which is all that really matters.
Toryn has been doing great with his training, while I've been struggling with shin splints for the past couple of weeks, which really suck as some of you will know! I have plenty of things planned to try and ease those (new shoes, physio, adjusting my running stride, strength, and stretching), and in the meantime we'll be moving onto an elliptical for our cardio workouts so that we can ease off on the pounding on my shins.
Next up: Santa Shuffle 5k on December 1; Big Elf 10km on December 15 in Vancouver, and 4 or 5 craft fairs where we'll be selling our laser engraved products and donating proceeds to this fundraiser. Stay tuned for a final list of where you'll be able to find us this winter!
by Danielle Tate-Stratton on Mon, Oct 29, 2018 @ 8:35 PM

Permanent Link No Comments
Achievements
No Badges Have Been Earned