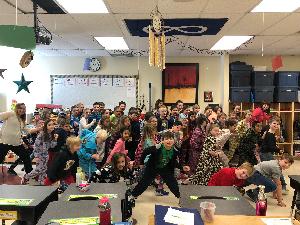 Hello!
Gus Wetter School Running Club invites you to join us in our fundraiser for Diabetes Canada. This is the running club's second annual fundraiser. Every year we like to give back by supporting a good cause that affects our school, community, or both. This year we have decided to run for Diabetes. We have a student at Gus Wetter that has recently been diagnosed with Diabetes. Our club would like to show their support for this little girl by giving to an organization that supports central Albertans living with Diabetes. You can help support our student athletes by sponsoring a club member who will be running for Diabetes Canada. The GWS Running Club meets every Monday at noon, in the gym. Each step the students take brings us a stride closer to helping the people we love. To donate, please click the blue "DONATE NOW" button near the top, right hand corner of this page. Your help and support is so greatly appreciated. Thank you for taking the time to check out our page and support this cause. Sincerely,
Mrs. Jaymi Rausch,
Gus Wetter School Running Club Coach
Below is more information, provided by Diabetes Canada:
"By making a donation, you are supporting the Canadian Diabetes Association in its mission to help people with diabetes and those at risk of diabetes lead healthier lives while working to find a cure. A cure is urgently needed now more than ever, as diabetes is quickly becoming one of the fastest growing health epidemics in the world, and every hour of every day more than 20 people are diagnosed with this devastating disease. Your support is key in helping the Association lead the fight against diabetes through delivery of diabetes education and services, advocacy and research. For more information, visit diabetes.ca."
View More