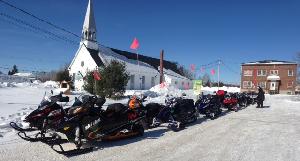 Join in and support Captain Ralph Gordon and fellow Canadian riders, Normand Surprenant, Hugh Cummins, Serge Charette, Jean-Guy Charette and Yves LeBlanc as they ride across Canada and the US in support of Diabetes Canada Research.
You can make a difference in the lives of more than 11 million Canadians people living with diabetes or prediabetes. By making a donation to our team, you are supporting the Diabetes Canada in its mission to help people with diabetes and those at risk of diabetes lead healthier lives while working to find a cure.
A cure is urgently needed now more than ever, as diabetes is quickly becoming one of the fastest growing health epidemics in the world, and every hour of every day more than 20 people are diagnosed with this devastating disease.
Your support is key in helping the Association lead the fight against diabetes through delivery of diabetes education and services, advocacy and research.
For more information, visit diabetes.ca.
View More