Five or Bust: Running in Memory of my Dad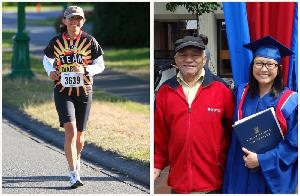 After running my first marathon in 2009, I set a goal to run four more - five in total before I turned 35 years old. I kept training and racing, and successfully completed three more marathons by 2013. But by 2014, life took me in another direction and I decided to hang up my running shoes, never finishing the fifth.
I ran that first marathon with Team Diabetes in support of Diabetes Canada, formerly the Canadian Diabetes Association. I had fundraised because I wanted to show my support for loved ones living with diabetes; this included my dad, who had lived with type 2 diabetes for years. Sadly, he died this past July after suffering dementia, nerve damage and other complications arising from diabetes.
In his memory, I've decided to finally complete that elusive fifth marathon in Vancouver, British Columbia in May 2017. It's scary; I haven't run a marathon in more than three years! Can I even do it!? But I feel compelled to try.
My dad would have been 79 years old this year. Please show your support for my campaign and help me honour his memory by donating on this page. Any amount you can contribute is greatly appreciated.
Five or bust. For you, Dad. And me.
For my observations about running and life in general, visit my blog, Five by 35 (a.k.a. Five or Bust), at http://fiveby35.blogspot.ca.
--
Team Diabetes is the national physical activity fundraising program for the Canadian Diabetes Association. Team members promote a healthy lifestyle while raising vital funds in support of the more than 10 million Canadians living with diabetes or prediabetes. The funds raised help the Association deliver on its mission to lead the fight against diabetes by helping people with diabetes live healthy lives while we work to find a cure. We invite you to learn more about Team Diabetes and the important work of the Canadian Diabetes Association at www.teamdiabetes.ca.
View More
Achievements

$350 Milestone
Raised the amount of money defined for this milestone