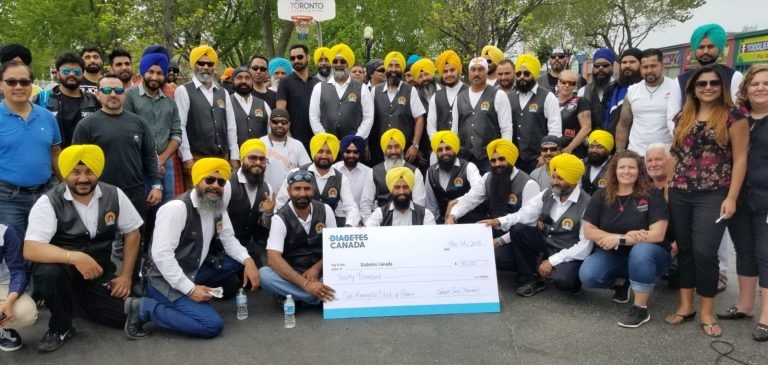 For many kids with Diabetes, there is often no one else in their school that can relate to living with Type 1 and they can struggle with being open about it. A diagnosis also brings a whole new set of skills for kids to learn, from how to test their blood sugar, and recognize a high or low, maintaining a balance between food, insulin and activity.
At D-Camps, kids get a break from being different. Campers often go home with a new level of independence in managing their diabetes and a feeling of empowerment that helps them continue the healthy practices they learned at camp.
With the support of motorcycle clubs across Canada, Sikh Motorcycle Club of Canada is organizing a National Ride that will benefit Diabetes Canada.
So far, Sikh Motorcycle Club of Ontario has raised $50,842 and continue to support kids living with type 1 diabetes to D-Camps. www.dcamps.ca. Our goal for the National Ride is to raise $100,000 or more.
This year, our ride takes place on May 31, 2020. Please refer to our website for details on each province. www.rideforcause.ca
Sikh Motorcycle Clubs across Canada have consistently engaged in promoting inclusion and empowering those around us to celebrate their customs, values and enriching the Canadian culture in the process. We have fund raised hundreds of thousands of dollars for a variety of Canadian charities including Breast Cancer Awareness ride, Ride Against Drugs, and raising $100,000 for Canadian Cancer Society. In addition to this upcoming Diabetes Canada benefit ride, our members regularly participate in blood donation through Canadian Blood Services, closely work with disaster relief through United Sikhs and other humanitarian causes.
Donate:
Find a Participant or Team:
Top Donors
Inderjit Jagron
Jaswindser Rai
Barinder Shokar
Randhir Singh Walia
Arshdeep Sidhu